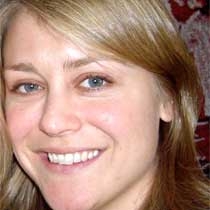 Leah N.
Massage Therapist "LMT"
---
A massage therapist, professional dancer and recent transplant to Salt Lake City, Leah Nelson helps everyone from workaholics and runners to seniors and CrossFitters make positive changes in their lives.
A graduate of the Swedish Institute in New York City, Leah believes that life is one big classroom. She is constantly seeking information about the body and how it heals; her yoga practice and her experience in dance and contact improvisation informs her massage practice.
Leah's treatments relieve injury-related pain and pain from over-use or poor posture (like sitting on the computer typing all day). She often treats athletes who suffer from tightness or pain, helping them open up areas like the hips and shoulders to allow for more efficient movement.
Leah integrates trigger point therapy, deep tissue, and structural integration techniques to relieve pain and promote ease of movement. Trigger points are addressed through pressure and myofascial work (without oil); releasing these points relieves pain and allows the muscles to work more efficiently. For relaxation during sessions, Leah also incorporates Swedish techniques.
From Traditional Chinese Medicine to myofascial release, Leah believes that any modality can help a person; it is just a matter of what works best for you.