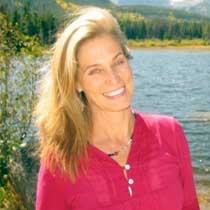 Laura P.
Yoga Instructor
Laura Plumb is the co-founder of Deep Yoga, a system based upon Hatha and Ayurveda that goes deeply into the mind, body and soul, delivering self-understanding, purification, inner-healing, a stronger connection and an expanded consciousness.
Trained in classical yoga, Ayurveda and evolutionary modalities, Laura's private sessions help her clients to heal and grow, encouraging them to enjoy greater self-expression and creativity in their every day lives.
Laura embarked on her spiritual quest at an early age, moving to Europe upon graduating college and taking a position with Discovery Channel Europe. At the pinnacle of her career, scandal erupted in the family in which she had married into—one of the wealthiest and most influential families in Europe at that. Amidst personal, family, career and financial loss, Laura embraced yoga in all of its deepest aspects, and it is through this process that she was able to heal and find strength.
Laura has met and studied with a number of renowned yogis on her journey, beginning with international spiritual leader Gurumayi Chidvilasananda. While in Europe, she studied one-on-one with TKV Desikachar, a master of yoga therapy, as well as Yogiraj Rod Stryker of Pure Yoga.
Today, Laura teaches classes in the style of deep yoga, a mode that is influenced by Tantric Hatha and Ayurveda, and that explores and awakens the mind, body and soul. Her personalized sessions seek to guide clients toward inner healing and greater energy.
---
Specialized Training
American Institute of Vedic Studies: Ayurvedic Healing, Yoga and Ayurveda, Jyotish
Kerala Academy of Ayurveda: Ayurvedic Counselor
Punarnava: Ayurveda & Consciousness
TKV Desikachar: Yoga Therapy Training
Para Yoga: Tantra, Vinyasa, Prana Yoga Trainings
Self-Realization Fellowship: Kriya