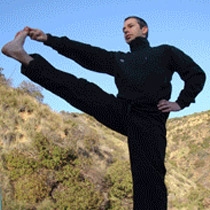 Steven M.
Yoga Instructor
Steven Metz, a registered yoga instructor with a background in the asana tradition, has traveled the world to enhance his understanding of the ancient practice, from India and China to Thailand and more.
Steven's introduction to yoga can be traced back to his childhood in Los Angeles, when he began practicing the age-old movements at Jean Pierre's Martial Arts Academy. While Yogi Jeanne Pierre offered Steven his first glimpse of traditional yoga asanas, it wasn't until working with his first full-time yoga instructor, Thomas Del Dio, that he truly understood its power. "I discovered a bliss which seemed to permeate every cell of my being," he recalls.
Steven now shares his knowledge at Earth's Power Yoga, his LA-based studio. While rock climbing, surfing and biking are all an integral part of this exercise enthusiast's fitness repertoire, Steven relies on yoga to keep himself physically and mentally fit. "Yoga has helped me improve as an athlete as well as rehabilitate after numerous injuries," he says.
A practitioner and teacher for more than 20 years, Steven has developed a finely tuned understanding of human anatomy, and applies this experience to his work. He teaches yoga in the rigorous asana tradition, drawing on Ashtanga, which focuses on the melding of breath and movement for external and internal cleansing.
---
Certifications
Yoga Alliance Registered Yoga Teacher