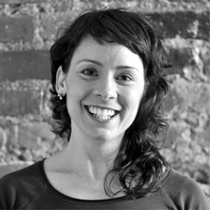 Kara M.
Pilates Instructor
Have you ever done Pilates in a cast? Kara Martin has, demonstrating why many of her clients call this 4'11" ex-gymnast a "force of nature."
Kara is the owner of vital corps, a private Pilates practice and wellness center located in the heart of New York City's artsy Tribeca neighborhood. Eschewing the impersonal "factory feel" of traditional gyms, Kara's studio provides a laid-back, judgment-free environment that welcomes an assortment of clientele, whether couch potato, cross-trainer or bride-to-be.
Kara's one-on-one sessions are designed to help each of her clients determine their individual fitness goals. She then builds customized programs using a blend of strengthening and energizing mat and reformer work to help clients achieve those goals. More than a Pilates instructor, Kara is also a nutrition guru and life coach, arming all of her students with an arsenal of healthful habits that extend beyond a training session.
"I'm a firm believer that people are more creative and happy when they are healthy," says Kara. "I help people get there using food and exercises like Pilates."
---
Specialized Training
re:AB Teacher Training Program (USA)
Natural Kitchen Cooking School, May 2012