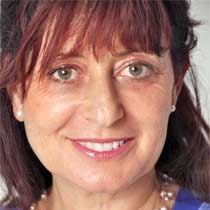 Isabelle D.
Yoga Instructor "PhD"
Creator of the Energetic Vinyasa Flow school of yoga, Isabelle Du Soleil teaches at UCLA, Yogaworks and Exhale Centre for Sacred Movement, at her studio in Venice, Calif., and at client homes in and around Los Angeles. Grounded in vinyasa flow, tantra yoga, dance, biology and energy healing, she is the private yoga trainer for a number of Hollywood celebrities and for the UCLA women's volleyball team.
Isabelle's journey with yoga began when she was 14 and started studying with May Kazan in Paris, where she was born and raised. Isabelle felt an instant spiritual connection to yoga in her first class. Today, as a teacher certified as ERYT-500 by Yoga Alliance (she has a minimum of 2,000 hours of teach experience), Isabelle hopes to share that sense of openness and transformation with her students.
A warm, passionate and vibrant teacher, Isabelle teaches students a practice in which tantra meets vinyasa flow yoga with an emphasis on mindfulness, alignment and core strength energy. She also helps students integrate breath, energy and meditation into the movement flow.
"Yoga is so much more than a physical discipline with health and healing benefits," says Isabelle. "I am really touched when my students are being transformed through the practices of yoga—feeling more open, connected, free in their body and mind, happy for no reason, successful and vibrant, alive."
What does Isabelle hope students will gain?
"A sense of centeredness, balance, inner joy and peace," she says. "Feeling good and at ease in their body with a balance between strength and flexibility. Learning to release and prevent stress while cultivating relaxation and energy."
Budding yogis love Isabelle's music playlists, which mix world music with reggae, salsa, African drums, hip hop, Indian melodies and classical music.
---
Certifications
Yoga Alliance Registered Yoga Teacher
Specialized Training
Certified Experienced Teacher and Teacher Trainer ERYT-500 by Yoga Alliance
Samudra Prana Flow Yoga School Certified by Shiva Rea
Para Yoga School Certified by Rod Stryker
Yogaworks School Certified by Lisa Walford & Maty Ezraty