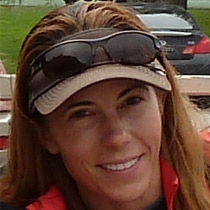 Laura G.
Personal Trainer "CPT, RD"
They say that diet and exercise go hand in hand, in which case Laura Garrett—a registered and licensed dietitian and certified personal trainer—is the complete package.
Laura discovered the benefits of a pescatarian lifestyle at an early age, and she's abstained from poultry, red meat and pork ever since. Texas born and Texas raised, Laura is passionate about helping others in The Lone Star State achieve a sense of optimal health. Many of her clients are busy moms who want to learn how they too can squeeze exercise and healthy eating habits into their hectic lives. (As a mom of three home schooled children, Laura can certainly relate.)
"No matter how busy you are, you can live a healthy lifestyle," insists this avid runner, one-time marathoner and local soccer mom. "Yes, it takes dedication. Yes, you have to put in the effort. But it is so worth it!" she enthusiastically says.
Laura's unique approach doesn't consist of just dietary guidance and a head to toe workout (though that's definitely part of the deal). She also instills in each of her clients an attitude that leads to commitment, and it's this sense of dedication that leads to beautiful and balanced results inside and out.
Highly educated, Laura holds a bachelor's degree in biomedical science from Texas A&M University as well as a bachelor of science in nutrition and dietetics from The University of Texas Southwestern Medical Center. Her services include access to a complete online training system meant to help clients stay on track when it's not possible to meet one-on-one.
---
Certifications
American Dietetic Association
American Council on Exercise (ACE)