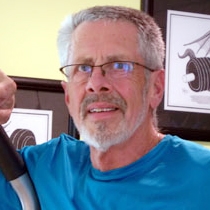 Charles B.
Personal Trainer
Certified personal trainer Charles Baerman offers much more than a simple exercise routine. Nutrition programs, lifestyle coaching and advanced customized training sessions are all available through BAER Fit, "an intelligent approach to fitness."
The most important thing Charles teaches his clients is the value of life. "If you want to live a long, happy, healthy life, you must invest in it," Charles says. "This means respecting yourself enough to take care of your body, your family and your future."
At BAER Fit, Charles works with clients of any age at any fitness level. He specializes in weight loss and family health, working with entire families to develop nutritious eating habits and regular activities. "We have helped thousands of clients reach their goals: weight loss, improved medical conditions and competitive sports," he says.
Since its founding in the early 1980's, BAER Fit has trained over 50 personal trainers, some of whom worked for Charles before heading off to build their own successful practices. Charles is proud of all of his current and former trainers, noting, "They are the best in the Miami Valley."
Charles is committed to crafting complete nutrition and exercise plans for each client and believes it's "not about dieting but living the life you were created to." "I help with clients' lifestyle concerns to make sure their health fits in with everything else they do," he explains. "I work with their schedule and create personal workouts based on their goals and medical background. Most importantly, I always put my clients first."
---
Professional License
Fitour Advanced Personal Trainer 117340
ISSA: 116616