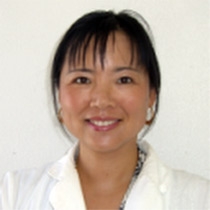 Heidi F.
Acupuncturist "DOM, LAc"
Licensed acupuncturist Dr. Heidi Fu first began practicing alternative medicine while serving in the Chinese Air Force General Hospital in Beijing, China. After moving to the U.S. and completing two master's degrees and a doctorate, Dr. Fu opened her own private clinic, Acupuncture Retreat, in Los Gatos, Calif.
As a doctor of acupuncture and trained herbalist, Dr. Fu has treated patients ranging in age from three to 86 presenting a wide spectrum of health issues. Her specific interests include women's and men's health, infertility, pain management and mental well-being. She also endorses facial cosmetic acupuncture treatments as a natural alternative to Botox.
"I believe in an individual and integrated approach to each patient, enhancing the body's natural ability to heal through a positive lifestyle, healthy diet and personal development," says Dr. Fu. "I'm committed to providing preventative and quality care to my patients, combining the best features of Eastern and Western medicine to offer a unique, effective healing experience."
---
Professional License
AC12505
Certifications
California Acupuncture Board