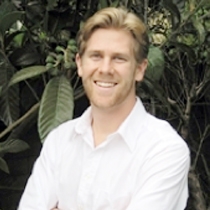 Eric C.
Acupuncturist "LAc"
Licensed and nationally certified acupuncturist Eric Carlisle has been helping the residents of Southern California to heal for over seven years. His approach to health and wellness is one of balance, teaching his patients how to "maintain a clear and healthy approach in all aspects of their lives."
A background in martial arts originally introduced Eric to the world of holistic health. After enduring a crisis of heart while studying advertising and graphic design, Eric decided to leave the "manipulative and harmful" corporate world to pursue a career in acupuncture and herbal therapy.
"My approach to the healing process is aimed at delivering powerful and focused treatment in the fewest possible visits," says Eric. "I know my clients would rather be playing with their kids or taking care of business."
With this goal in mind, Eric works to craft highly specified treatment plans that are beneficial to the individual client's needs. "No one's 'dis-ease' is exactly the same, and effective care requires special attention to the whole person," Eric explains. "Focusing on the unique needs of the individual is paramount to the recovery process. I honor this in my practice by offering completely customizable care."
Eric says that his treatments are ultimately about teaching clients to heal themselves. He claims that nothing he does with his clients is purely his doing, and that he simply re-educates the body's healing abilities. "Self-care will result in healthy patients who do not need to come back," Eric says.
What to Expect
Eric says: "What makes my practice unique is that I offer painless alternative therapies for patients who may be fearful or hesitant toward acupuncture needles. Energy Light Acupressure (ELA) utilizes a device with gentle micro-current and color therapy applied with soft-tipped probes and acupuncture's theory of acupoints. The treatment is administered much like an acupuncture session but causes absolutely no pain."
---
Professional License
#AC13012
Certifications
California Acupuncture Board