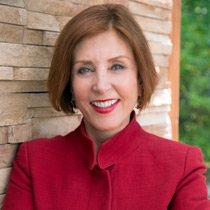 Maureen F.
Acupuncturist "LAc"
Licensed Diplomate of Acupuncture and registered nurse Maureen Fox "combines years of training, experience and in-depth understanding of Eastern and Western medicine to provide clients with safe and effective treatment that supports their natural good health and well-being."
"I believe traditional Western medicine is at its best in emergency life-and-death situations, and Eastern medicine's strength lies in improving the quality of life and strengthening the body," says Maureen.
Maureen's approach is to treat each client as a whole person, rather than a combination of symptoms. She says that her aim is always to resolve the root cause of a problem, which will resolve the symptoms as well. "I believe that the human body is amazingly adaptive and, with some help, capable of healing," she adds.
Maureen began her studies in Traditional Chinese Medicine because she saw a great need for compassionate medical care. "Chinese medicine treats the body and the individual with respect for its innate intelligence and ability to heal itself," Maureen explains. "It is benign; it does not injure the body and it is virtually without unwanted side effects. It helps not only with aches and pains, but also with serious complicated illnesses. I chose this medicine, after many years of nursing, because it gives me the tools to provide safe, effective health care."
Maureen has dedicated over 3,000 hours to the study of acupuncture and other traditional modalities. She continues to study ancient healing methods in order to offer her patients the best and most effective treatments at all times. "This is a sane method of care that helps people take control of their own health," she says. "And in my experience, it is a better, safer, gentler way to restore and maintain wellness."
---
Professional License
2008013300
Certifications
National Certification Commission for Acupuncture and Oriental Medicine
Specialized Training
Academy of Oriental Medicine, Austin, TX