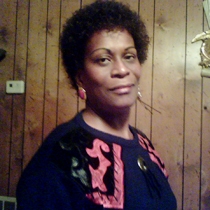 Mecshell Maria W.
Massage Therapist "LMT"
There is no doubt about it: Mecshell Maria Wright loves what she does and says, "I have a passion and a mission to help people."
While Mecshell says that she was "fortunate" enough to be taught how to improve lives through massage therapy, it's her clients who are truly the lucky ones. "I have been told I have gifted, healing hands," Mecshell says. "Allow me to come to your home and give you the very best massage you deserve from a caring, experienced, professional and ethical massage therapist."
Mecshell comes equipped to each session with a wide range of therapeutic techniques to help clients relax, unwind and heal from stress and pain. Of course, for those who simply want to be pampered "just because," Mecshell can be of great assistance too.
A great listener, Mecshell also recognizes that talking can often be as therapeutic as the bodywork itself. "Sometimes, when a person can talk about something that's bothering them, that takes a lot of stress and tension off their mind and body," she explains. "You can always be assured of the strictest confidentiality with me."
Unique to her practice, Mecshell works with clients—women and couples only—from the comfort of their homes. Her clientele are many and varied, consisting of females, couples and women who are interested in planning a get-together, from bridal showers to pajama parties and more.
---
Professional License
TN Lic. #0326
Certifications
Tennessee Board of Massage Licensure