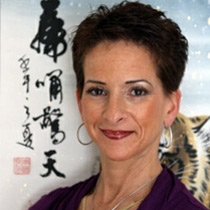 Michele L.
Acupuncturist "AP, DOM"
Michele Louiselle's integrated, holistic approach includes acupuncture and Chinese herbs, whole food nutritional philosophy and traditional medical examinations. She calls this combination "the best of the East and the best of the West."
Michele listens carefully to patient concerns, educates them on possible outcomes and takes care to never rush through consultations or treatments. She is here to improve and maintain patient health and wellness, whether that means relief from chronic illness or recovery from injury.
Through the use of acupuncture, Chinese herbs, whole food nutritional supplements and functional medicine by way of hormone and neurotransmitter testing, Michele and her team "rebalance the body, allowing it to heal from the inside out." Corrective care plans tend to last anywhere from two to six months, and maintenance plans are designed to move forward and keep the patients healthy well into the future.
Michele and her team have treated conditions as diverse as stress, insomnia, carpal tunnel, allergies, fibromyalgia, migraines, addiction, sciatica, thyroid disorders, vertigo, arthritis, asthma, pain management, menstrual and pregnancy-related concerns, digestive problems and cardiovascular disorders. She also offers thermographic scans for early detection of degenerative disorders and disease that can be corrected before becoming life threatening.
"Education," Michele says, "is key." She and her team focus on providing clients with the knowledge necessary to empower them to choose wisely and achieve greater, longer lasting health and wellness.
---
Professional License
License #971
Certifications
Florida Board of Acupuncture