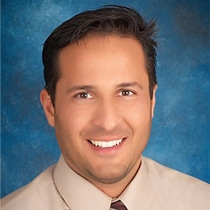 Marco D.
Acupuncturist "DOM, LAc"
Marco Di Bonaventura is a licensed acupuncturist with more than 15 years of experience in the field of Chinese medicine. At Complementary Healthcare, Marco offers a complete examination and evaluation before determining how to best address each person's wellness needs and goals.
Marco is a board certified acupuncturist with a doctor of Oriental medicine license in the state of Florida. After maintaining a fruitful practice in Florida since 1997, he recently moved to the King of Prussia area, where he established his current facility.
Marco is resolved to provide patients with the ultimate wellness experience. His office features a tranquil, family-like environment that comforts and satisfies. There, he says, "We are committed to providing reliable healthcare services that complement traditional allopathic care." To accomplish this, Marco implements a comprehensive, integrative approach to not only treat existing ailments but to reduce and prevent the onset of future illness.
In addition to patient care, community education is at the core of Marco's practice. Patients receive ongoing information about how they can best optimize their health, and local businesses are afforded the opportunity to attend seminars and "Lunch and Learn" series through the Foundation for Wellness Professionals, a non-profit organization that is committed to health and wellness education.
---
Professional License
AK001027
Certifications
National Certification Commission for Acupuncture and Oriental Medicine
Pennsylvania Board of Osteopathic Examiners/Board of Medical Examiners