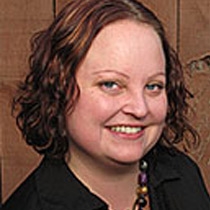 Sarah S.
Acupuncturist "LAc"
Medical engineer Sarah Sawyer was frustrated by a career that didn't allow her to see the fruits of her hard work. She left her job to travel and teach in Nepal, where a dangerous skin infection led her to discover the life-saving powers of Oriental medicine.
Now a licensed Oriental medical practitioner herself, Sarah says she had no idea how much that trip to Nepal would change everything she'd ever known. The mother of the family she stayed with used herbs to control her infection until she could return to the U.S. for treatment. Once there, she learned it was the herbal medicine that had saved her life.
"I enrolled in Western herbal studies immediately and then acupuncture and Oriental medicine school a year later," Sarah recalls. "I found that using acupuncture in addition to herbal medicine is really effective in treating the root of the problem, instead of just the symptoms."
After graduating and obtaining her license, Sarah began practicing in St. Paul and named her practice Beautiful Ama to honor the woman she owes her life to. "Ama is the word for 'mother' in the Nepali language," Sarah explains. She still keeps in contact with her Nepal family and visits them whenever possible.
"The greatest part of my job now is that I get to teach people how to use food therapy and other healthy habits to really change their lives," Sarah says. "As I work with people to help them become the healthy person they always had within, I've never forgotten how I got here."
---
Professional License
NCCAOM #117586
ABMA #1512
Certifications
National Certification Commission for Acupuncture and Oriental Medicine
Minnesota Board of Medical Practice