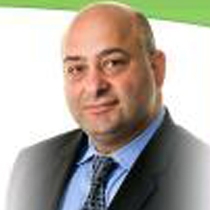 Al F.
Chiropractor "DC"
Licensed chiropractor Dr. Al Foroushani is a talented practitioner with over five years of experience specializing in pain management, manual adjustments, rehabilitation and massage therapy.
"Chiropractic, compared to all other medical services, is the safest and most effective treatment for most spinal musculoskeletal conditions," says Dr. Foroushani. "It offers up to a 95-percent success rate!"
At Wyckoff Family Chiropractic, Dr. Foroushani's number one goal is to help his patients get healthy and stay healthy. From spinal adjustments to cold laser therapy, he offers a wide range of non-invasive options to help his patients live a pain-free life.
Dr. Foroushani tailors his sessions to techniques that will be the most beneficial to the individual patient's needs. He is firmly committed to his patients' ultimate healing, and enjoys working with medical doctors and other healthcare practitioners to ensure his clients' receive the very best treatment and results.
"We provide the finest chiropractic care with a personal touch," Dr. Foroushani says. "We offer both manual adjustments and a variety of instrumental adjustments, such as the Activator technique and the Impulse technique, to relieve pain, improve musculoskeletal function and improve the patient's general quality of life. Our promise to each of our patients is that they will always receive the personal attention and specialized treatment they deserve."
---
Professional License
38MC00658900
Certifications
New Jersey State Board of Chiropractic Examiners