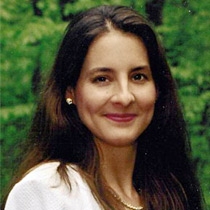 Janette A.
Chiropractor "DC"
As a child and young adult, Dr. Janette Pena had dreams of Olympic stardom in gymnastics and track and field. This experience taught her to pay close attention to her body, especially when it was in pain, and she eventually channeled her knowledge into a successful chiropractic career.
"When you feel good, you look good and you are more equipped to make choices that will lead to a life of happiness and fulfillment," says Dr. Pena. She imparts this wisdom to all her clients, especially those who might be hesitant about treatment. "Reorganizing, restoring and optimizing your overall posture and balance is paramount to long-lasting health and greater well-being," she adds.
Dr. Pena works with children and adults from birth to old age. Her techniques are customized to each patient's needs, and she incorporates several physical therapy modalities for optimal treatment with long-lasting results, including flexion distraction, cold laser, electrical stimulation and hot packs.
Whatever issues her clients are dealing with, Dr. Pena's goal is to locate the cause of the problem without invasive intervention or unnecessary prescriptions. And, Dr. Pena advises, patients do not have to show symptoms of a serious problem to benefit from chiropractic care. "This alternative medical modality can actually be an intrinsic part of the maintenance process," she says.
"It's really about anatomy and physiology and the power of the body to heal itself," Dr. Pena continues. "The body continually seeks homeostasis, and chiropractic adjustment helps the body overcome injury from trauma, stress, environmental chemicals in the air, food and water, poor nutrition, poor posture and improper or lack of exercise. It can help you reach your optimum potential."
---
Professional License
NY X009817
Certifications
New York State Board of Chiropractic