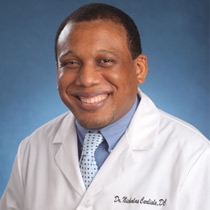 Nicholas C.
Chiropractor "DC"
"If you want great chiropractic care, and if you are having problems meeting your weight loss goals, this office is the place for you," says Nicholas Carlisle, a doctor of chiropractic medicine based in Atlanta, Ga.
A Detroit native with a love of Michigan football, Dr. Carlisle discovered the benefits of chiropractic medicine after dislocating two fingers back in high school. Today, he offers patients the chance to explore how chiropractic can improve their well-being too. "I like to help people," Dr. Carlisle says. "I like the look on their faces when they do not expect me to help them with their condition, and when I do, they know that they do not have to live in pain."
Dr. Carlisle maintains a practice that houses chiropractic care, medical weight loss, anti-aging and massage all under one roof. His goal: to treat everyone who comes through his office no matter their reason or concern. "You can have chronic low back pain or acute neck pain from an autoaccident; the goal is always to get you as close to normal as possible."
---
Professional License
CHIR00862
Certifications
Georgia Board of Chiropractic Examiners