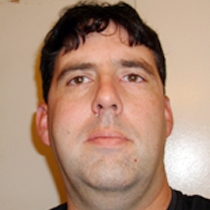 George M.
Massage Therapist "LMT"
---
A licensed massage therapist offering outcall services in Phoenix, Ariz., George Marlow spent the bulk of his childhood in a small Midwestern town, where he developed a strong sense of moral duty and care. He believes his upbringing had a profound effect on his current professional endeavors, and credits his parents' background in the hospital industry to his appreciation for a life of health and well-being.
George is a graduate of the Arizona School of Massage Therapy and has worked independently and in an office alongside a chiropractor and acupuncturist. His varied experience enables George to work with all types of clientele, and while he attracts an eclectic assortment, he especially enjoys enhancing movement and range of motion through structural work. "I believe in the healing effects of massage," says George, who caters each session to client's particular needs and desires. He has training in reflexology, Swedish massage, hydrotherapy, trigger point, sports, cranial, structural and Russian massage, and draws on a unique blend to address specific areas of concern. Beyond the session itself, George sees himself as a conduit for his clients' lasting wellness. To ensure lifelong health, he teaches his clients how to maintain their well-being in between sessions, so that they may continue to progress toward their ultimate goals. "I believe in the healing of you," says George, "and the time it takes to get there."