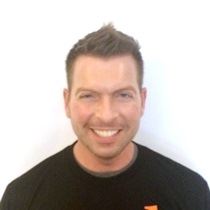 Brian K.
Massage Therapist "CMT"
Certified massage therapist Brian Keith is the owner and creator of Strategies for Today, a comprehensive system of physical, mental and spiritual therapy that seeks to restore symmetry to patients' bodies and lives.
> "My passion is helping others find a healthy congruence of body, mind, and spirit," says Brian. "As a massage therapist I am committed to helping clients regain mobility, find freedom from pain, and achieve blissful states of relaxation." > Brian offers a wide range of massage techniques, including Sports massage, Swedish massage, Orthopedic massage, Myofascial Release, and Deep Tissue therapy. Brian is focused solely on his clients' personal developments and wellness journeys. > "I really enjoy working with clients to find balance between opposing muscle systems throughout the body in order to create lasting relief from pain," he says. "And I also enjoy working with clients to reach an incredible, stress-free, blissed-out state." > In order to be equipped to do so, Brian has attended completed several advanced modalities in massage, including Myoskeletal Alignment Technique, Craniosacral Therapy, & Orthopedic Massage. > Once a client's physical body has been rehabilitated past the acute and chronic pain stages, and they have achieved full range of motion, Brian enjoys taking healing one step further: working closely with his clients' personal trainers who help them reach the final stage of recovery and retain their gains through maintenance. Brian says, "I am dedicated to the extraordinary life of each of my clients, a life that they can truly love and about which they are inspired and passionate!"
---
Professional License
CAMTC certificate 27875
Certifications
California Massage Therapy Council
Specialized Training
The World School of Massage & Healing Arts, Massage Therapy, 2011
Current & Previous Employers
World School of Massage (San Francisco, CA); World of Health (San Jose, CA); Equinox (Palo Alto, CA);