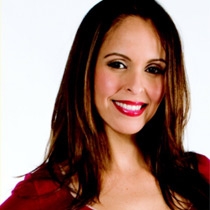 Onaney B.
Registered Dietitian "RD"
When she was diagnosed with cancer in 2011, licensed dietitian Onaney Borromeo relied on her knowledge of nutritional science to overcome many obstacles of her disease. Now cancer-free, she is inspired to share the benefits of a healthy, balanced lifestyle with as many people as possible.
The cancer diagnosis also triggered memories of Onaney's own mother's similar diagnoses five years earlier. "We were told that there was no real treatment available to her," she recalls. "This news ignited a passion inside of me to find non-traditional ways to help her through her journey. In doing so I believe I found my calling, to become a registered dietitian. I now counsel patients from all walks of life."
With an infectious smile and can-do attitude, Onaney is a breath of fresh, healthy air for most of her clientele. "If you feel you have tried it all but haven't seen the results you desire, then perhaps you are ready for a new outlook," she says. In keeping with the belief that each person has unique needs and goals, Onaney works to build a relationship with every client, upon which they can create a plan that is realistic and achievable.
"My personal passion is providing individualized nutritional counseling utilizing motivational interviewing techniques that engage the client and inspire positive change," Onaney says. "I go beyond the surface and work with people to get to the root of their motivations and assist them in achieving their goals."
When counseling her clients, Onaney says her mission is to empower them to reach for those goals. "I provide my clients with the fundamentals of nutrition," she explains. "But nutritional counseling for me goes beyond just discussing the foods that you eat. It includes your habits, beliefs, self-perception and lifestyle. Together with my clients, I develop strategies for making positive adjustments."
---
Professional License
DI100000528