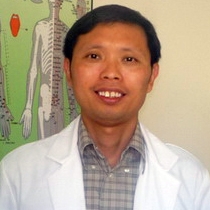 Dan W.
Acupuncturist "LAc"
Licensed acupuncturist Dr. Dan Wu is an expert in restoring neurotransmitters and has developed a special acupuncture treatment protocol to stimulate the axis of the hypothalamic-pituitary-ovaries to restore the body's hormonal system.
"I have completely dedicated myself to the practice of acupuncture," says Dr. Wu. "I use both acupuncture and herbal therapy to restore neurotransmitters and hormones, which allows the body to return to homeostasis."
In Traditional Chinese Medicine philosophy, the body can only achieve true wellness when it reaches a point of homeostasis, or balance. Dr. Wu's methods seek this end result. In his practice, New Body Acupuncture, Dr. Wu's mission is to treat the root of the pathology of his clients' disorders, wean them off antidepressants and other drugs if necessary and discover and maintain optimal wellness.
---
Professional License
12026