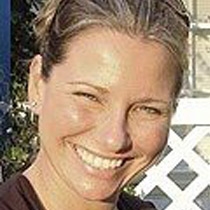 Nitasha C.
Massage Therapist "LMT"
From the skylight to the hardwood floors, the Charlottesville studio of licensed massage therapist Nitasha Canine is clean, calming and spa-like.
Since 1998, Nitasha has been practicing massage and functional exercise for clientele who seek to feel healthier, stronger and pain-free. "I appreciate clients who value their time and mine," Nitasha says, "and I work well with clients who are interested in a long-term professional relationship."
The main focus of Nitasha's treatment sessions are to help clients relax and release painful tension. She also teaches her clients how they can enhance their healing process at home, on the job or at the gym, and to take responsibility for their wellness journey.
A graduate of both the Baltimore School of Massage and the National Academy of Sports Medicine, Nitasha is able to offer her clients more than the typical therapist. She is also an expert in functional exercise training and nutritional therapy. Her knowledge of the body helps her to determine when a client may be in need of additional care from an acupuncturist or orthopedist.
When Nitasha first opened her practice, Back in Balance, she was adamant that all of her sessions be designed around each client's desired lifestyle and fitness level. That commitment hasn't changed, and today she is even more excited to be educating and empowering her clients on their road to optimal health and wellness.
---
Professional License
M00166
Certifications
Virginia Board of Nursing
Specialized Training
Baltimore School of Massage, Massage Therapy, 1998
National Academy of Sports Medicine, Functional Exercise