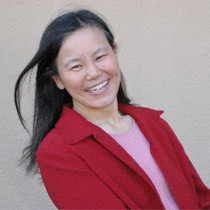 Rachel T.
Acupuncturist "PhD, LAc"
Licensed acupuncturist Dr. Rachel Tan is the owner and operator of Tan's Acupuncture and Herbs and a highly respected physician in both the U.S. and China. Her practical experience and extensive research set her apart from other area acupuncturists, while her firsthand understanding of disease, pain and suffering help her closely connect with her patients.
"I grew up in the Chinese countryside during the Cultural Revolution," Dr. Tan recalls. "I dealt with malnutrition, asthma and eczema. I was soaked inside out with the Chinese herbs my mother cooked for me, and the wild fresh herbs my grandmother picked and rubbed on me. I still remember the sensation when my father inserted the first acupuncture needle into me for asthma. I believe TCM cured my asthma and saved my life."
Dr. Tan repaid her family's care and concern by carrying on the healing tradition and studying at the Chengdu University of TCM, graduating in 1984. She studied and practiced both TCM and Western medicine in China for 10 years before moving to the U.S. and seeking her PhD. Dr. Tan seeks to continually enhance her education and her practice, and recently graduated from a two-year spiritual direction and retreat leadership program at the Journey Center in Santa Rosa, Calif.
In her practice, Dr. Tan strives to help her patients restore balance to their health through acupuncture as well as diet and exercise. Her holistic approach views health as a multi-layered entity, and she attempts to treat imbalances on a variety of levels: cellular, spiritual, universal. "Human beings are the most mysterious beings in the universe," Dr. Tan says. "I never get tired of learning more about them."
---
Professional License
CA 5208
Specialized Training
Chengdu University of Traditional Chinese Medicine, Chengdu, Sichuan, China, 1984