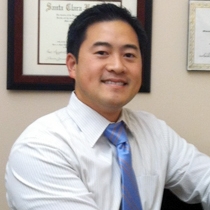 Robinson L.
Chiropractor "DC"
In private practice since 2007, Robinson Le is a doctor of chiropractic medicine who works with individuals of all ages and with all needs, from children to seniors, athletes to auto accident victims.
Dr. Le emphasizes health maintenance and injury prevention, and is known for building long-term relationships with his clients, many of who he describes as "chiropractic miracles"—that is, they have tried numerous doctors and remedies yet received no relief before. Newcomers to his office often share the same excited reaction: "That felt great! Why didn't I do this sooner?"
Motivated by this kind of consistent positive feedback, Dr. Le enjoys hearing from clients even after their treatments to understand how they are doing. He finds it gratifying to learn how someone finally slept without pain, or was able to play soccer after not being able to do so for years. He is especially inspired by those who choose to make healthier decisions and strive to reach new goals, such as losing weight, trying new sports or training for marathons, as a result of feeling so much better.
Dr. Le is proficient in the treatment of acute injuries of the neck and back in addition to sports-related injuries. He uses several chiropractic techniques, including the Gonstead methodology for acute disc injuries and the Graston technique for chronic and repetitive injuries. He employs trigger point therapy and myofascial release to improve mobility and Kinesio Tape to enhance blood flow and healing. Physiotherapy, muscle stimulation, core strengthening and stretching are also available for those in need of rehabilitation and exercise therapy.
A native to Marina and Monterey, Calif., Dr. Le is an active alumnus of his alma mater, Santa Clara University, where he completed his undergraduate studies. He credits his rewarding college experience with his ability to effectively help others today. A volleyball and golf enthusiast, Dr. Le also looks forward to his annual trips to Mexico, where he volunteers alongside other chiropractors and massage therapists to bring alternative therapies to under-served communities.
---
Professional License
DC30812
Certifications
California Board of Chiropractic Examiners