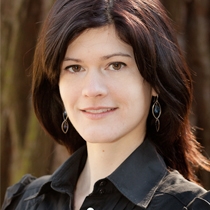 Elizabeth G.
Acupuncturist "LAc"
As a child of the Montana mountains and Texas plains, licensed acupuncturist Beth Griffing says she always had an interest in incorporating the principles of nature into city life. Beth is now years past the days when she tested mysterious wild herbs on her family, and instead expertly practices age-old techniques of traditional healing and herbal therapy on clients with conditions ranging from severe autoimmune and brain trauma to neurological and cardiovascular disorders.
"Health is the greatest gift," Beth says, and with this in mind she tutors her clients in simple self-care methods tailored to their individual constitutions and lifestyles. Beth welcomes clients of any age and with any medical issue, and encourages them all with her sunny optimism. "I teach my clients that medical care doesn't have to be frustrating," Beth says. "After a short while, taking care of yourself won't feel like work. It will become an unconscious part of your life."
Beth believes in collaborative, integrative care and communicates clearly with her clients' concurrent health care providers to bring clarity to their entire plan of care. She says her ultimate goal is to eventually provide preventative care in the form of seasonal "tune-ups" for optimal health. To further establish her commitment to her client's healing process, Beth makes herself available by email and by phone outside of treatment hours. "Truly listening to a client can be helpful and motivating for them," she says, "to know that someone will openly give you feedback with your best interest in mind, and respond to your questions and concerns with immediacy."
Beth says she loves seeing clients not only get better, but also become happier and more content as they feel empowered to nourish their health and that of their families. "I was inspired to enter the healing profession after doing a cultural anthropology thesis about community gardening. I find that Traditional Oriental Medicine reflects this satisfaction by using natural therapies to connect people's bodies and minds to the health inherent in their own bodies, and it stimulates a similar sense of wholeness and relaxation during the treatments. Instead of relying on a pill to "fix" their problem, we create treatments that not only feel good but also empower people to gain the satisfaction of control over their own health," she explains.
---
Professional License
OR Lic. #AC157013
Certifications
National Certification Commission for Acupuncture and Oriental Medicine
Oregon Board of Medical Examiners
Specialized Training
Wat Pho School of Medicine, Thai Traditional Massage, Bangkok, Thailand, 2012