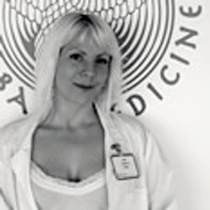 Lisa L.
Acupuncturist "LAc"
Lisa Lapwing is passionate about her work as a licensed acupuncturist and enjoys working with clients from all walks of life. "If you're looking to naturally enhance your health, treat various ailments and generally take care of your body and your health, you've found a practitioner to help you!" she says.
A graduate of the Academy of Oriental Medicine at Austin, Lisa is trained in an assortment of modalities, including acupuncture, Chinese herbology, bodywork, cupping, moxibustion, gua sha, exercise, stretching and nutrition. Depending on each client's individual needs, she is capable of crafting a treatment program that suits their wellness goals and improves their well-being.
Lisa is an avid exerciser with a love of the outdoors, and encourages all of her clients to take an active role in their health by staying fit and participating in a workout they love. All sessions with Lisa are collaborative in this manner, and she teaches her clients that, "We're improving their health together. I can't do it without them!"
Lisa, a practitioner of Oriental medicine and a Chinese herbalist, has also held certifications as an ACE personal trainer for more than a decade. Sessions involve a brief discussion about the modalities Lisa will implement, followed by a 20 to 30-minute treatment and a demonstration of appropriate and complementary exercises.
A believer in client education, Lisa explains that teaching clients about their condition and why certain methods yield specific results is paramount to their progress. And progress is the ultimate goal. "I love being an Oriental medical practitioner because the look in someone's eyes or the tone of their voice when they are healed fills me with confidence, motivation and pure joy," Lisa says.
---
Professional License
AC01264
Certifications
Texas State Board of Medical Examiners
Specialized Training
National Certification Commission of Acupuncture and Oriental Medicine, Diplomate
ACE Certified Personal Trainer