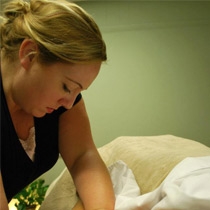 Kristen T.
Massage Therapist "LMT"
Licensed massage therapist Kristen Tammaro offers quality, customized massage therapy treatment that focuses on one or two specific areas of the body—ideal for athletes, chronic pain sufferers and individuals who have endured muscular trauma like whiplash.
With Kristen, clients get results through targeted, tailored, "no fluff" bodywork. She says, "I do not typically offer a full body relaxation massage just for the heck of it (unless that's what the client needs). There is an extensive interview process that takes about 10 minutes, where the client clues me in on what is keeping them up at night with pain or stopping them from doing their daily activities."
Following this initial intake, Kristen is best able to determine how to treat her client. She assesses their individual circumstance, and creates a treatment program that fits their current needs. "I pride myself on offering results-driven treatments that are effective and relaxing at the same time," Kristen says.
Thanks to this personal attention that's often absent from spas, Kristen's clients are typically amazed with the results. Her motivation? "When a client comes out of the treatment room and says, "Wow, I haven't been able to move my neck like that in weeks."'
Drawing on whole health massage treatments, Kristen's work has a specific flow that she says she has yet to find anywhere else—either as a bodyworker or a consumer. "We like to pamper our clients while providing pain and stress relief that is desperately needed," she explains. "Deep tissue massage should not hurt. We tend to move very slowly when working, and add just a hint of more deep pressure to get at the root of a problem."
Kristen adds that, when dealing with true pain, clients need to demonstrate patience. She explains that pain relief doesn't simply occur after a single session; the client is expected to play an equal role in their recovery at home. To facilitate the healing process, Kristen suggests heat, ice, stretches, self-care tools and other ergonomical changes to their lifestyle.
---
Professional License
5504
Certifications
Massachusetts Board of Registration of Massage Therapy