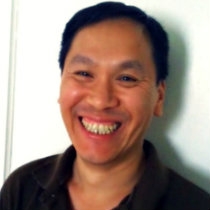 Douglas C.
Massage Therapist "LMT"
Licensed and extensively trained in an assortment of techniques, Douglas Chu customizes every massage treatment based on an initial intake, during which he can assess a client's individual goals and determine the best course of action.
Acknowledging that clients have differing needs and requests, Douglas says that sessions may consist of more than a single modality. Not only is this Swedish Institute graduate capable of traditional therapies like Swedish and deep tissue massage, but he is also trained in a number of complimentary techniques and is a student of ortho-bionomy and naturopathy.
Douglas has been practicing massage and bodywork since 1999, and while he has worked with all kinds of clients, the majority, he says, are "deep tissue enthusiasts." Regardless of why they booked a session or what they say they need, he offers up suggestions (in a non-preachy way) and encourages clients to take charge of their health. "I find that no one likes to be told what to do, so I will suggest alternatives and follow-up suggestions," says Douglas. "It is up to the client on how pro-active they want to be."
Douglas, who was born in Hong Kong, spent the majority of his life growing up in New York City. He is motivated by his ability to have a positive effect on each client's physical being, and explains that it is rewarding to see a client smile or sense their gratitude at the session's end.
---
Professional License
NYS license 010542
Certifications
New York State Board of Massage Therapy
Specialized Training
Swedish Institute