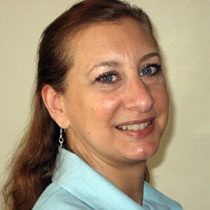 Lisanne F.
Massage Therapist "CPMT, LMT, NCTMB, RMT"
---
Offering a broad array of bodywork services, Lisanne Franco's techniques span the gamut, from intense deep tissue massage to gentle energy work. A licensed massage therapist, certified prenatal massage therapist and certified Reiki Master Teacher, this owner of Child of the Moon Reiki & Massage Therapy in New York City offers Swedish massage, manual lymph drainage, CranioSacral Therapy and pre- and postnatal massage, and reflexology and aromatherapy can be included in each session.
Lisanne moved to the Big Apple in 1981 with the intent of staying just long enough to experience everything the city has to offer. More than three decades later, this licensed massage therapist, an avid Yankees fan, is still in the area and loving every moment. She serves clients at two locations in midtown-Manhattan.
In practice since 1999, Lisanne helps clients suffering from muscle pain, migraines, sciatica and fibromyalgia, among other conditions. She says, "There is nothing so satisfying for me than to see someone, after a session, whose whole countenance has eased and the tension that was in their face and body has either disappeared or minimized."
In addition to providing therapeutic bodywork, Lisanne has a great desire to teach clients self-awareness, from breathing to staying hydrated and being in the moment, something she is an expert on. As part of her reiki practice, she meditates almost daily and also practices yoga about three times per week. Lisanne is also certificatied as a prenatal massage therapist.