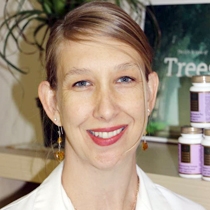 Annie P.
Acupuncturist "LAc"
Annie Porter invites "anyone with a true desire for healing spirit, mind and body" to her private practice, Spirit Tree Acupuncture and Herbal Clinic in Scottsdale, Ariz., purposely located away from the hustle and bustle of the Valley. A licensed acupuncturist and herbalist, Annie helps clients dealing with physical injuries as well as emotional distress, from sprained ankles and back pain to heartbreak and sadness.
Annie became passionate about helping others through Traditional Chinese Medicine after receiving it herself. Suffering a pinched nerve, which left her in chronic pain for months, she visited numerous physical therapists and chiropractors, taking daily doses of prescription-grade ibuprofen without help. Her dad suggested a trip to his acupuncturist, and within three visits, her problem was completely resolved.
Determined to learn more, Annie set on a path to wellness, eventually earning a degree in Oriental medicine from the Phoenix Institute of Herbal Medicine and Acupuncture. Now she enjoys assisting clients with cupping and herbal formulas and teaching self-care techniques from tenets of Chinese medicine, such as how to evaluate one's tongues for signs of sluggish digestion.
Wishing to embody strength, endurance and longevity, she named her practice "Spirit Tree" to reflect her deep feelings for acupuncture and herbal medicine. Each initial session at Spirit Tree begins with a consultation. Annie then determines appropriate treatment, which may include dietary advice, gua sha, moxibustion and tui na massage, in addition to acupuncture.
Providing holistic health care for women, Annie also works with those dealing with endometriosis, mastitis, uterine fibroids, menopausal difficulties, dysmenorrhea and other issues. Having treated many individuals who are afraid of needles, Annie also offers mini-sessions to those requiring time to overcome their fear.
---
Professional License
Herbalist AZ Lic. # 0789
Certifications
National Certification Commission for Acupuncture and Oriental Medicine
Arizona Board of Acupuncture Examiners