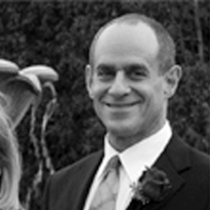 Aaron F.
Chiropractor "DC"
It was Dr. Aaron Flickstein's own visit to a chiropractor back in the 70s that changed his life. Relief from headaches and physical pain inspired him to improve others' quality of living by eliminating their pain too.
When he was younger, Dr. Flickstein was a dedicated gymnast and trained rigorously for seven years, an experience he says helped him develop a great internal sense of muscle control. Yet it wasn't until he was in training to become a yoga teacher years later that he first saw a chiropractor, a visit that opened his eyes to pain relief and ultimately changed the direction of his life.
Today, Dr. Flickstein is as passionate about healing patients as he is about educating them on how to regain and restore healthy function. Once he has targeted and healed the root cause of pain, he moves on to wellness care in order to help them "achieve the highest level of health they can imagine."
At his practice, Dr. Flickstein focuses on "drug-free, nonsurgical natural methods of removing the causes of illness and pain by restoring balanced control in all systems." He tries to avoid nutrients, herbs and homeopathy "by restoring balance more directly," whether the ailment is physical, mental-emotional or spiritual-attitudinal.
In addition to traditional chiropractic, Dr. Flickstein also offers acupuncture to assist pain control and enhance immunity as well as specialized training in applied kinesiology, bioenergy therapy and Ayurveda, a technique that brings "a balanced, profoundly life-respecting approach to healing."
Dr. Flickstein credits his "intense curiosity" about natural healing methods for his "unique synthesis of natural healing approaches." He strives to get the best results possible with "less fuss," lifestyle changes and in the fewest visits. Whether dealing with problems at the mechanical, chemical, mental-emotional or viewpoint levels, Dr. Flickstein is dedicated to staying abreast of the newest natural techniques in order to offer patients the most effective and longest lasting care possible.
---
Professional License
1743
Certifications
Minnesota Board of Chiropractic Examiners