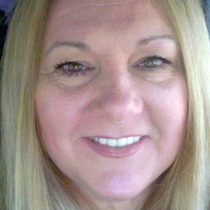 Sue-Brown H.
Massage Therapist "LMT"
Sue-Brown Henry left a career of over 20 years in the accounting industry to pursue the holistic field of massage and energy work. Now a licensed massage therapist, aesthetician and Reiki Master of 15 years, Sue seeks to share her knowledge of the healing arts with others who are in need.
"Everyone deserves at least one hour of peacefulness!" says Sue. "Take care of you and you will feel good!" Each client of Sue's receives a treatment plan designed therapeutically and personally for their benefit. Plans can include a wide range of massage modalities, skincare treatments and reiki, depending on their individual needs.
Sue teaches all her clients to be aware of their posture, drink plenty of water and stretch. To encourage them to continue with their therapy, Sue relies on nothing more than the results of the treatments.
"I just love my job. It is not only about healing my clients, the energy that abounds in the room is a healing wonder for me too," Sue says. "If I'm in pain myself or just having a bad morning, the minute I start massaging a client the energy in my life shifts. It's amazing!"
After meditating for decades, Sue is grateful to have found a career that combines her gift for healing with her passion for helping others. "Once I knew what I wanted to do, I was sitting in class within two weeks," she says. "I am so blessed to have found my true purpose."
---
Professional License
DE: MT 0002654
NCBTMB: 555798-08
Aesthetician: ME 0000878
Certifications
Delaware Board of Massage and Bodywork
National Certification Board for Therapeutic Massage and Bodywork
Specialized Training
National Massage Therapy Institute, Therapeutic Massage, 2008