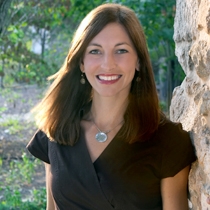 Kristie F.
Registered Dietitian "LDN, RD"
Licensed nutritionist and registered dietitian Kristie Finnan has always had a passion for keeping fit and a fascination with the way food can enhance physical performance. After working in the oncology sector of the biotech field, Kristie became even more intrigued by food's power to fight disease, and launched her own nutritional consulting business.
"I don't believe in diets. Lifestyle changes last a lifetime," Kristie says. "And when a patient reverses disease or is able to lose weight and maintain it, it's an amazing feeling to know I made a difference."
In her practice, Kristie offers one-on-one nutritional counseling, nutritional workshops, speaking engagements and school education. She says that working with kids and families is her specialty, in particular picky eaters and kids struggling to make healthy choices and manage their weight. "I'm also passionate about the field of immunology and super-foods that help with disease prevention," she says.
During an initial visit, Kristie will help the client assess their needs, as well as why eating healthy, losing weight or managing their disease is important to them. Follow-up visits can address emotional eating strategies, food education and meal planning. Throughout therapy Kristie remains "supportive, never judgmental."
Kristie says it's extremely important to be able to distinguish facts from fads, and that nutrition isn't really about how you look, but about how you feel. "Some research shows that the act of laughter can improve your health," Kristie says. "Do you smile or laugh often?" Kristie counsels that when you are healthier, you are able to do more of the things you love, which ultimately leads to more smiles!
---
Specialized Training
Kids Eat Right Task Force (Academy of Nutrition and Dietetics)
Adjunct Professor at Bucks County Community College
Speaker for the PA Academy of Pediatrics- EPIC Childhood Obesity and Prevention