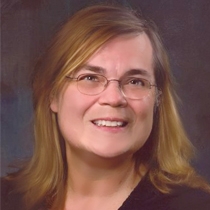 Karen H.
Massage Therapist "LMT"
Karen Homann was a fiber artist for 30 years, using her hands to thread and weave yarn into various patterns and shapes of color. Her creativity and intuition made her transition to a career in massage therapy somewhat seamless, and today, she kneads the muscles of the body into "a sense of lightness an well-being."
At Black Hawk Healing Arts, Karen helps clients achieve balance and harmony through the application of traditional and complimentary therapies. She says, "Enjoy a relaxing visit that will alleviate stress and promote overall wellness by forgetting the outside world and returning you to a state of peace and serenity."
While the average client at Black Hawk Healing Arts is looking to relax, refresh and renew through massage, Karen takes sessions a step further by facilitating healing and pain relief as well. "I teach client care by offering them suggestions on how to improve their bodies," she says. "I motivate my clients by giving them words of encouragement."
With an ever evolving practice, Karen offers clients high quality services that exceed industry standards. She has a hydraulic table, which makes it easy for clients to get situated, and recently purchased an infrared sauna—good for increasing blood circulation, removing toxins and mineral waste, reducing stress and fatigue and relieving pain. She is also fully equipped with a hot stone roaster and a hot towel cabinet.
---
Professional License
005853