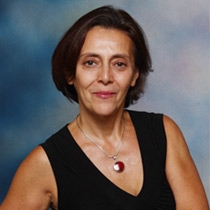 Beth-Ellen Z.
Massage Therapist "LMT"
From her peaceful office overlooking her heirloom herb garden and the red rocks of Sedona, licensed massage therapist Beth-Ellen Zang dispenses therapeutic bodywork, ancient Oriental wisdom and her signature blend of lifestyle and nutritional counseling in equal, effective amounts.
Beth-Ellen first discovered natural health as a child growing up near Woodstock, N.Y. A perusal through Back to Eden, along with exposure to neighbors following the natural food movement, led Beth-Ellen to explore a holistic lifestyle. In addition to her private massage practice, Beth-Ellen is also the founder and director of the Sedona College of Natural Health.
"My practice consists of people just learning about natural health, recovering from chronic distress, acute trauma rehabilitation patients, those seeking nutritional education, as well as pediatric and geriatric clients," Beth-Ellen says. "Sometimes you can't change the amount of stress in your life, so I have clients who have been coming to see me for system resetting for 20 years! I think this is because I never stop studying and my sessions are never formulaic."
Licensed since 1983, Beth-Ellen has had plenty of time to hone her skills and enhance her education by continually studying new approaches to therapy. She is an expert in lymphatic drainage, massage cupping and visceral manipulation, among others.
"I teach my clients self-reliance: how to take care of themselves and their families," Beth-Ellen says. "I educate them to observe their bodies and note triggers of distress. Then I show them simple, natural ways to help their bodies correct the problem, before turning to a drastic solution, like surgery." Beth-Ellen has extensive experience working with medical practitioners, including allopathic physicians, and says that her scope of practice is wide enough that she need not refer to other practitioners but can offer continuity and consistent flow along the "pathway to well-being".
---
Professional License
MT-00653P
Certifications
Arizona Board of Massage Therapy
Specialized Training
The Sedona College of Natural Health, Founder and Director, 2002-Present