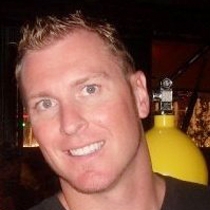 Matthew J.
Personal Trainer "CES"
NASM-certified exercise specialist Matthew Johnson has over 15 years of coaching experience in various sports and athletic development skills, as well as a strong educational background in sport administration, exercise science, health promotion and sport psychology. He now offers individual and group training sessions to clients in the Goodyear, Ariz. area.
""The IT Factor" Integrated Training Program is an athletic performance enhancement company designed to provide professional training services influencing all aspects of sport specific strength, speed and agility, conditioning, as well as mental and tactical skill development," says Matthew. "If you want to maximize your potential both mentally and physically, I will create an individualized strategy that will work on all aspects of your performance."
Matthew's clients tend to be individuals seeking a better life through the improvement of their physical and mental condition, along with scholastic, collegiate and professional athletes. Matthew teaches injury prevention techniques, fitness nutrition and mental training at his clients' homes or preferred locations.
"The first session will include a variety of physical, mental and nutritional assessments," Matthew explains. "Training sessions will vary based on the individual client's specific needs. Some clients require focus on corrective exercise, others more focus on nutrition, while many may require performance enhancement. Exercise components will include flexibility, balance, plyometrics, speed and agility, resistance and power training."
Matthew encourages his clients by helping them set goals and use mental imagery. He says that his interest in the athletic field was first sparked as a child when his father started taking him to local sporting events. Since then, his fascination has only magnified, and he now has a "passion for helping others perform at a higher level and live a healthier lifestyle."
---
Certifications
National Strength and Conditioning Association (NSCA)
National Academy of Sports Medicine (NASM)
Specialized Training
National Academy of Sports Medicine Certifications: Corrective Exercise Specialist, Fitness Nutrition Specialist and Performance Enhancement Specialist