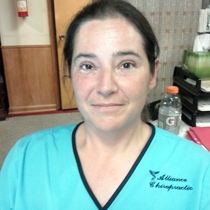 Jennifer L.
Massage Therapist "NCTMB"
Jennifer Labauve, a nationally certified massage therapist based in Tulsa, Okla., believes in the body's "amazing ability to heal itself."
It was a personal injury in 1996 that changed Jennifer's professional path forever. With a long-time interest in therapies like acupressure, reflexology and other forms of therapeutic massage, she decided to go into a field in which she could help others enhance their quality of life.
Jennifer's ultimate goal is for clients to find a sense of immediate relaxation in order to address needs for long-term wellness. "The better the body can relax, the better it can heal," she says. To best serve her clients, she encourages them not only to relax but to ask questions too.
Jennifer is a member of the National Certification Board for Therapeutic Massage and Bodywork as well as a certified reflexologist with a penchant for continuing education. She graduated from the Oklahoma Health Academy for Massage Therapy in 2011, and looks forward to working with clients to improve their health and well-being.
---
Professional License
L9570
Certifications
National Certification Board for Therapeutic Massage and Bodywork
Specialized Training
Oklahoma Health Academy for Massage Therapy, 2011