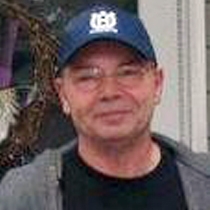 Michael H.
Massage Therapist "LMT"
---
Licensed massage therapist Michael Hysler has over 40 years of experience as a martial artist. He holds a seventh degree black belt in the art of KaJuKenBo, and says he is familiar with the frustrations that athletes endure when their training is limited by injury or stress.
Michael treats a broad spectrum of clients, from serious athletes to business professionals to artists. Though many of his clients are physically active, Michael is also experienced with those who suffer from chronic, long-term patterns of distress, frequently post-injury. "I teach all of my clients skills to improve their overall well-being, and help them take a proactive approach to maintaining their health," he says.
A former manager of a global corporation, Michael decided to reinvent his career and study massage therapy as a way to share his personal passion for life, health and athletics. "Massage is a holistic and natural approach to health and wellness, dating back to the pharaohs of ancient Egypt," Michael explains. "Some of the many benefits include reduced stress and anxiety, improved range of motion, enhanced immune system, reduced muscle soreness and stimulation of the parasympathetic nervous system."
With expertise in a wide range of modalities, Michael strives to craft unique sessions for each individual client. An initial intake session generally includes a discussion of medical history and future goals. "Typically I like to start with some myofascial work to relax the fascia, move into more specific work that addresses concerns and issues, and finish with CranioSacral Therapy," Michael says. "But no two sessions are ever the same."
As a therapist, Michael sees a distinct difference between encouragement and motivation. "I believe they're separate objectives," he says. "I encourage my clients with humor and compassion that accentuates their progress and confidence. I teach them accountability. But motivation comes from within."