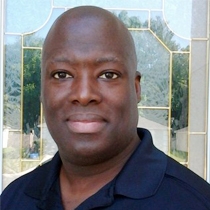 Stacy W.
Massage Therapist "LMT"
Licensed massage therapist Stacy Williams is a former Navy Hospital Corpsman who worked as the primary medical caregiver for sailors and marines in Naval hospitals all over the world. After retiring from duty, Stacy studied massage therapy, and now treats clients seeking serious therapeutic massage for injury recovery and stress relief.
Stacy was inspired to help others by his mother, a children's x-ray technician, who set a caring example. He is committed to treating his clients with similar compassion, and believes that, "Adding a massage to your lifestyle is a small achievement, and this small change can lead to greater well-being".
In general, Stacy's clients are athletes who, like him, follow the example of Jack LaLane. "He's an icon of healthy living," Stacy says. He teaches his clients habits that LaLane would approve of, especially the importance hydration. "Circulation is designed to carry away waste materials generated during a massage," Stacy explains. "By providing the body with plenty of water, clients can help avoid a build-up of these materials, which can cause muscle aches and soreness."
A typical session with Stacy begins with a discussion of the client's health history. The massage may take place on a table or chair, depending on the their needs and preferences. Stacy asks that clients be vocal about allergies to lotions or oils, and how they are withstanding the pressure. He says he encourages his clients with a smile and a level of dedication that goes above and beyond that of his colleagues.
"I like knowing that I am helping to improve lives," Stacy continues. "And I want my clients to know how much I care. Sometimes, I wake from sleep with resolutions to client problems. It is great when clients realize that massage can work wonders!"
---
Certifications
Florida Board of Massage Therapy