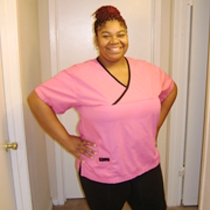 Tausha J.
Massage Therapist "LMT"
A licensed massage therapist in Spring, Texas, Tausha Jackson offers outcall services to bring comfort and convenience to her loyal clients' homes.
Tausha began her career in the wellness industry as a student of physical therapy, but found that PT didn't offer the hands-on nature she was looking for. Instead, she enrolled in and graduated from Memorial Hermann Spa and Massage Therapy School, obtaining her certification and state license thereafter.
Working closely with chiropractors and massage facilities in the area, Tausha branched off in order to build relationships with clients of her own. She now attracts a variety of clients from a range of backgrounds, but says that men find her strong, focused massages to be exactly what they're looking for.
Something else clients of Tausha's appreciate is her ability to listen. "I've been told that many therapists don't take the time to listen to their clients, and that's what sets me apart," she says.
Tausha's ultimate hope is to make sure her clients' wellness goals are met, and that they experience the best massage they have ever received. To prolong the benefits, she offers services that go beyond the table, providing tips for reducing muscle tension at home.
---
Professional License
TX MT112806
Certifications
Texas Department of Licensing and Regulation
Specialized Training
Memorial Hermann Spa and Massage Therapy School, 2011