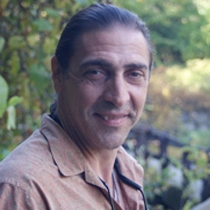 John M.
Massage Therapist "LMT"
A licensed massage therapist for nearly 10 years, John Musco strives to help his clients end each session feeling "relaxed but energized with a sense of balance."
John tends to see clients whose busy lifestyles make an in-home massage session the best option. He offers his services within a 60-mile radius, though he also provides the choice of holding the session on his 80 acres of "private, park-like" land, so that clients may enjoy the great outdoors while finding rest and relaxation.
Each client is unique, so a typical session can vary widely. John often supplements to massage therapy, with recommendations and advice on complementary exercise, stretching, yoga and meditation practices. His clients range in age from teenagers to the elderly and include athletes, cancer patients and busy professionals.
John offers "general well-being" massage, injury recovery sessions, deep tissue, shiatsu, trigger point, myofascial release, lymphatic drainage, CranioSacral, hot stone, aromatherapy, couples and chair massage. He is committed to helping clients "learn from the suffering of the past" in order to shape a healthier, stronger future.
To John, "It's about bringing awareness." His favorite aspect of being a massage therapist is seeing firsthand the benefits of his work for clients. In addition to bodywork and advice on healthy habits, he also strives to help his clients approach life in a more wholesome way. "Think negative and you will attract negative," he says, but "think positive and you attract positive."
---
Professional License
NYS License 017181
Certifications
New York State Board of Massage Therapy
Specialized Training
Hudson Valley School of Massage Therapy, 2003