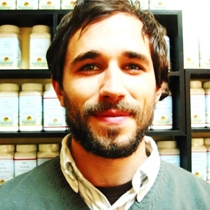 Jeremy C.
Acupuncturist "LAc"
"Listen to yourself." That's the takeaway when working with Jeremy Cornish, a licensed acupuncturist and teacher of qi gong and jiu jitsu, who believes that real motivation comes from within. "I guess the best I can do is find what's already there and help to bring it to light," he says.
Jeremy is endlessly fascinated by all Chinese medicine has to offer and is grateful for being able to call it his job. "I especially enjoy the fact that I am able to juggle paradigms and observe the world through a spiritual and energetic lens, and then apply those theories to help people in a practical way," he says. "I'm especially happy to share ideas, strategies and exercises (physical and mental) to help solve your problem."
Jeremy says that understanding acupuncture and human physiology from a qi gong and jiu jitsu perspective has been invaluable to his practice. "I have found those practices to be incredibly empowering, and have seen many students reap the same benefits," he notes.
Optimum health, Jeremy adds, is composed of five primary elements: "abundant energy, good digestion and elimination, quality sleep, healthy libido and balanced emotions." He believes that Chinese medicine can help individuals to attain these goals, especially when custom tailored to address personal imbalances.
Sessions with Jeremy involve follow-ups to discuss progress from one treatment to the next and modifications to adjust for speed-bumps and problems that may arise. Two acupuncture visits are typically performed during a single visit, one on the front and one on the back. Once the needles are inserted, patients take a power nap, followed by massage, acupressure, qi gong, stretching, cupping or any other therapies that Jeremy thinks could be beneficial to their health.
---
Professional License
NCCAOM Lic. #198000842
Certifications
National Certification Commission for Acupuncture and Oriental Medicine