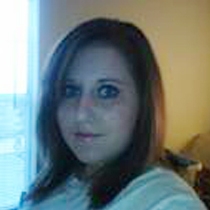 Hailey C.
Massage Therapist "LMT"
From stress relief to the symptoms of the common cold, massage can help, says licensed massage therapist and private practitioner Hailey Canerday.
Touting the endless health benefits of massage and bodywork, Hailey's goal is to educate her clients and the residents of Pulaski, Tenn. on the advantages of therapeutic and relaxation-based bodywork. While she encourages clients to enjoy their massage services, she also urges them to look forward to the pain relief that can be achieved. "I want to make life livable again!" she says.
Hailey says that she always loved massage and recalls having a talent for it since her childhood. "I began working on friends and family because I find a peace and a personal stress relief in helping others," she explains. "As I grew up, I realized this was a career."
Hailey went on to earn her massage therapy certificate in 2010 and her license to practice on a professional level in 2012. Today, she introduces clients to the improvements that can be made to their bodies and minds. "I am very passionate about the work I do for others," she says. "Massage is my dream, and I am living it!"
---
Professional License
9458
Certifications
Tennessee Board of Massage Licensure