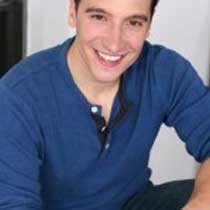 Anthony B.
Personal Trainer "CPT"
Anthony Bagnetto embraced a health-oriented mindset from a young age and can still recall the excitement he felt during his very first swim lesson. To Anthony, a former college-level competitive swimmer and diver, exercise is simply a non-negotiable part of life.
It doesn't take an enormous amount of effort to get in shape with Anthony. Whether you have access to a luxury gym full of fancy equipment or are working in a humble space with the most basic of tools, Anthony can create a customized sequence of challenging, focused exercises designed to meet your personal goals.
Anthony trains with clients through TotalBodyFit, offering semi-private training sessions that help clients work toward specific health and wellness objectives. The way Anthony sees it, he builds a "customized, measurable and goal-oriented training program that will transform your body and almost certainly, your life."
At the end of the day, Anthony's methods are tried and true. When he's not building training programs for others, this natural-born competitor is a dedicated runner and triathlete, participating in eight to 12 races every season. In September 2010, Anthony completed his first Ironman triathlon—a decidedly noteworthy achievement.
---
Certifications
American Council on Exercise (ACE)