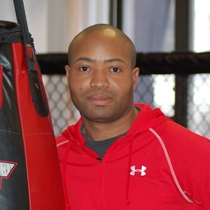 Delon N.
Personal Trainer
Guayana-born personal trainer Delon Nelson loves Muay Thai boxing, and so do the professional basketball players and celebrities who rely on him to keep their bodies in tip-top shape.
The owner of D & I Fitness in Midtown Manhattan, Delon Nelson has been a certified personal trainer and Muay Thai kickboxing instructor for 13 years. He has trained professional basketball players, celebrities, mixed martial arts specialists, stay-at-home moms, adolescents and young professionals looking to increase their strength and improve their health. A former head trainer for the Miss USA Pageant, Delon has worked with A-list clients from model and TV personality Vanessa Minnillo to ESPN College GameDay host Chris Fowler.
Delon's training philosophy? "Fitness is not a style, it's a lifestyle," he says. "Reap what you sow. Put in the time and see results. It's that simple."
His clients agree: More than 60 percent of them have been training with Delon for more than five years. No doubt it's because of Delon's mantra of fun while working out. "You can find great joy in intense training once boredom is eliminated," he says.
Born in Georgetown, Guyana, Delon lives his fitness philosophy every day. He's not afraid to admit mistakes, and always learns from them. Owning up to mistakes helps build confidence—for himself and for his clients.
Delon's ability to listen and communicate is what he believes sets him apart from other trainers. What's good for one client isn't necessarily right for another, he says, and his exercise regimens are customized for each client. Physical transformations don't happy without some mental changes too, and Delon focuses on helping others understand how to positively affect their environment rather than let their environment affect them.
The personal trainer studied physical and health education at City College of New York, where he graduated with honors.
---