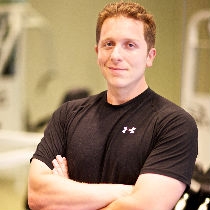 Joe B.
Personal Trainer
Joe Barbagallo means business. He spent years training US Army recruits for fitness tests (think Lou Gossett Jr. as a tough commander in An Officer and a Gentleman).
The good news is that Joe's bedside manner is kind and gentle, despite his years training America's soldiers. Joe is an easy-going and friendly professional who knows how to listen. With 12 years of experience under his belt, Joe considers a great relationship with the client key to his personal training style.
While the client roster at Joe's private practice, Joe Barbagallo Fitness, includes professional athletes, actors and other celebs, he'll never name names. But Joe says he gets his greatest satisfaction out of clients with real-life weight loss goals or personal challenges.
The New York City-based trainer has a range of expertise that includes everything from corrective exercises to mixed martial arts. He trains beginner and up-and-coming fighters in and out of the ring, and he can train you too. The martial arts are more than just a workout—devotees promise better focus, self control, and overall energy. So think Mr. Miyagi meets the Lieutenant in charge of new recruits, and you're getting a sense of a session with Joe Barbagallo.
Specialties
Attention new moms: Joe can help you stay in your best shape, both during pregnancy and after birth.
The trainer also frequently works with clients to reach their weight loss, rehabilitation, sports training and strength training goals. He knows his way around Kettlebells and, if you're up for it, may just get you in the boxing ring.
---
Certifications
American Council on Exercise (ACE)
National Strength and Conditioning Association (NSCA)
Specialized Training
KettleBell Certification, 2010
Functional Movement Systems Certification, 2009