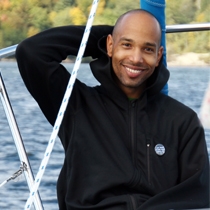 Frank B.
Personal Trainer "CSCS"
While Fitness Manager of Equinox Fitness Clubs in New York City, Frank Baptiste oversaw a team of 30 personal trainers and designed programs for 275 clients. Frank now offers his services privately, improving the city's physical and mental health one stressed-out, over-worked New Yorker at a time.
How? Frankly, this fitness fanatic encourages his clients to return to their roots. "Learn to move like a child," he advises. Whether new mother (he is pre- and post-natal certified), weekend warrior or competitive athlete, Frank works to help each of his clients reach their fitness goals safely and efficiently.
Dont think youre off the hook once youve ditched the kettlebell either. Franks personal attention and guidance extends beyond the three hours a week he typically spends working with a client in the gym. Demonstrating his total dedication, he asks, What about the other 165 hours?
Well give you a hint; Work with Frank, and overtime, youll become inclined to modify your eating and sleeping habits in an effort to optimize your overall health.
---
Specialized Training
NSCA Certified Strength and Conditioning Specialist, 2008
Equinox Fitness Training Institute, 2007 & 2008
Kettlebell Athletics L1 Instructor
Functional Movement Screen Certified
Pre- & Post-natal Certified