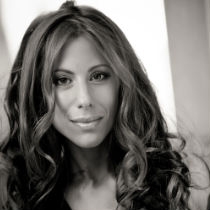 Abby F.
Aesthetician "LE"
Whether battling the winter blues or breaking out your spring whites, spray tanning is a year-round must-have. Thats why New Yorkers love Abby Feller: Certified esthetician, professional makeup artist and, fortunately for the pale-skinned, skilled spray tanner.
Abby opened her own spray tan studio, Bake, in 2009. Her secret weapon? This enthusiast of organic products uses an all-natural Infinity Sun Treatment system at her Gramercy-based salon. The highly touted tanner boasts antioxidants and pure botanicals, as well as anti-aging effects on the skin. Also rumored to be used by music legend Britney Spears and a bevy of other Hollywood beauties, one has to wonder: Could spray tanning actually be good for your skin?
For those who don't have the time to squeeze in weekly tanning sessions, Abby also conveniently offers mobile, at-home services. A traveling tanner, Abby arrives at client's homes toting an oxygen tank-size piece of equipment that is sure to befuddle even the most veteran of doormen. In a matter of minutes, a nylon tanning bubble is erected in between your couch and flat screen, ensuring that the furniture doesnt wind up as bronzed as your skin.
Philosophy
Abby believes in a straightforward and safe approach to maintaining a youthful appearance and a beautiful glow.
---