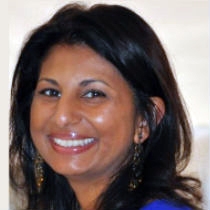 Kamini T.
Cosmetic Dentist "DMD"
A graduate of the Medical University of South Carolina, Dr. Talati is committed to excellence—in the technical skills of dentistry but also in humanism, kindness and compassion.
Before preparing an individual treatment plan, Dr. Talati makes sure to gain insight into the patient's concerns—his or her dental needs as well as fears or financial concerns. A comprehensive dental examination, diagnosis and prognosis are also musts.
Dr. Talati performs each dental procedure with extreme respect for the patient's body, absolute infection control and supportive post-operative care.
In order to provide the most advanced dental treatments, Dr. Talati participates in continuing education, and consults with other dental and medical specialists when indicated.
Dr. Talati's auxiliary personnel are also carefully chosen with the above purposes in mind, as she believes it is imperative to have a team approach in her practice.
---
Certifications
American Board of General Dentistry