Tori Spelling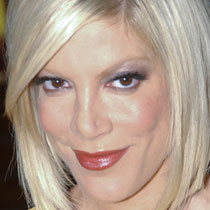 Best known as Donna Martin, later appeared in a string of made-for-television shows and independent movies (including the splendidly titled ) before starring in reality shows including "So NoTORIous" and "Tori & Dean: Home Sweet Hollywood."
Health & Beauty Regimen
Diet and nutrition: Spelling told magazine that she gained 40 pounds while pregnant with son, Liam, and daughter Stella. Though tabloids exploited rumors that she developed an eating disorder after giving birth (she did, afterall, look ultra thin), Spelling attributed her bodily transformation - the weight which took seven months to lose - to her "sensible" diet of three meals a day, consisting of mostly organic food. The apples don't fall far from the tree either; Spelling's children eat homemade organic food too.
Fitness and exercise: Spelling reportedly relies on cardio workouts to work off her "baby fat." But more recently, she has come to find her inner by practicing yoga in between shooting her reality show and playing mom. A fan of Itsy Bitsy Yoga, Spelling has also introduced her kiddies to the wonders of yoga, describing her son's reaction as: "He was all Zen afterwards."
Beauty products: Spelling has been said to use Votre Vu's anti-aging serum and Olay Professional Pro-X Eye Restoration Complex.
Cosmetic treatments: Spelling has confirmed getting a at age 16, although she's strongly denied other rumored procedures, including . However, Spelling visibly grew three cup sizes in 1995.
Quotes